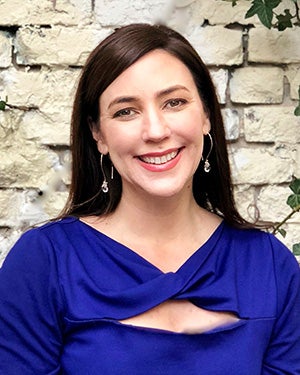 Brighton, CO – In August, United Power welcomed Meghan Dewey to fill its newly created role of Member Engagement Officer. At United Power, Dewey will be responsible for developing and implementing a cohesive engagement strategy highlighting the cooperative's commitment to its communities and its members. She will direct member services, new business, energy management and marketing and communications to develop programs to meet members' diverse and changing needs.
"I am delighted to join United Power as its first Member Engagement Officer," Dewey said. "United Power's commitment to its members and community, and its strong track record of performance and innovation, provides a real foundation for our future. I'm looking forward to working together with our members, our board, community leaders, and the United Power executive team to continue to provide value to our members and help lead us forward into a better energy future – the cooperative way."
Dewey comes to United Power with a track record of enhancing customer experience and implementing successful customer-minded energy efficiency programs after spending seven years in various leadership roles at one of California's largest utilities, Pacific Gas & Electric. While with PG&E, she spearheaded one of the country's largest and most impactful energy efficiency programs and technology portfolios with more than 100 customer programs. She was most recently involved in the company's wildfire safety program, designing new programs, products and services to advance customers' resiliency and meet their energy needs during proactive power shutoffs.
In addition to her experience leading program development and new product design, Dewey also oversaw the company's legislative strategy for energy efficiency and demand-side management. She successfully advocated for landmark legislation giving investor-owned utilities the ability to develop new program models that would help meet the state's aggressive carbon neutral goals. She served as co-chair of a statewide stakeholder engagement coalition representing California investor-owned utilities as the state moved to a new energy efficiency administration and program design model.
Committed to extending her leadership influence beyond the office, Dewey has also been active in representing the industry on various boards and committees and mentoring men and women pursuing careers in the energy and utility industry.
"United Power has a bold vision for its future, and we're excited to add Meghan's perspective as we develop our long-term strategy," said John Parker, United Power Chief Executive Officer. "She brings a wealth of experience with her from her time at PG&E and will be a valuable addition as we continue to look for better ways to serve our members."
United Power is a member-owned, not-for-profit electric cooperative serving more than 90,000 homes and businesses along Colorado's northern front range. To learn more about United Power, visit www.unitedpower.com or follow the cooperative at Facebook.com/UnitedPower.
###